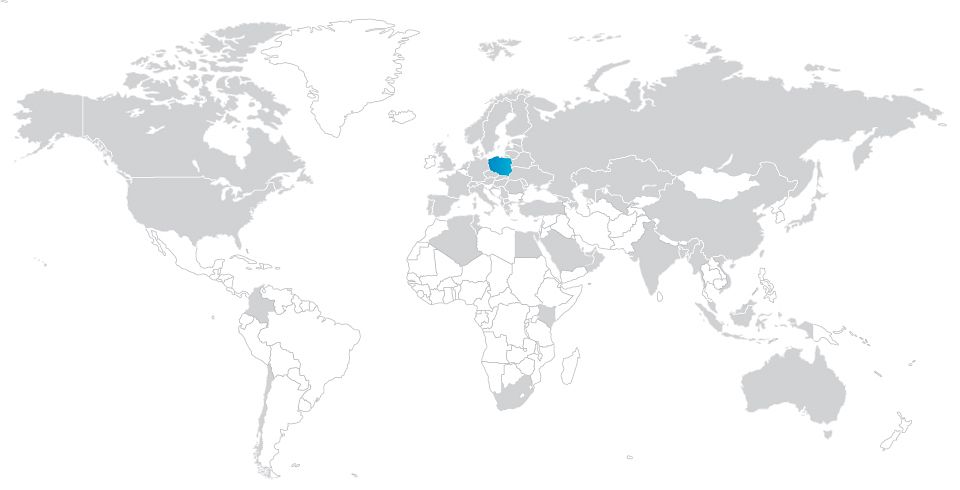 All foreign markets related sales activities, including devising and implementing the strategy of expansion into new foreign markets, are undertaken and carried out by the Export Department of Meden-Inmed. The first large scale foreign order was for micturition chairs used for urodynamic examinations and it was realized for a Danish company in 2005. Currently over half of our production is exported. Our products are sold to more than 70 countries worldwide and the revenues from export constitute about 20% of overall sales of the company. At present a team of 6 specialists with extensive expertise and invaluable experience in the field of sales of medical equipment are employed by the Export Department. So as to provide the highest standards of cooperation with foreign partners they speak many languages: English, German, Spanish, Russian and Ukrainian. Our equipment is presented on many international exhibitions including Medica and Aquanale in Germany, Exposanita in Italy, Reeduca in France, and medical fairs in Kazakhstan, Russia, Belarus, and Ukraine.
Some of the countries where we export our equipment:

Albania,
Algeria,
Armenia,
Australia,
Austria,
Azerbaijan,
Bangladesh,
Belarus,
Belgium,
Bulgaria,
Canada,
Chile,
China,
Colombia,
Croatia,
Cyprus,
Czech Republic,
Danmark,
Egypt,
Estonia,
Finland,
France,
Georgia,
Germany,
Great Britain,
Greece,
Guatemala,
Hong Kong,
Hungary,
Iceland,
India,
Indonesia,
Israel,
Italy,
Japan,
Jordan,
Kazakhstan,
Kenya,
Kyrgystan,
Latvia,
Lebanon,
Libya,
Lithuania,
Malaysia,
Moldova,
Montenegro,
Morocco,
Myanmar,
Netherlands,
North Macedonia,
Norway,
Oman,
Pakistan,
Palestine,
Philippines,
Portugal,
Qatar,
Republic of Maldives,
Romania,
Russia,
Rwanda,
Saudi Arabia,
Serbia,
Singapore,
Slovakia,
Slovenia,
South Africa,
Spain,
Sri Lanka,
Sweden,
Switzerland,
Thailand,
Tunisia,
Turkey,
Ukraine,
United Arab Emirates,
United States of America,
Uzbekistan,
Vietnam.
Trade with Russia and Belarus is cut-off until the end oft he Russian invasion of Ukraine.