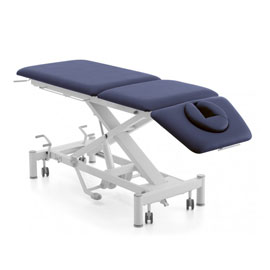 Safari Leopard S3 – H
Massage and treatment table with a powerful hydraulic actuator
Safari Leopard S3 – H is a 3-section massage and treatment table. Below you can find further documentation.
Characteristic Features:
3-section massage and treatment table,
Width of table top: 69 or 80 cm,
Hydraulic high/low height adjustment from 52 to 99 cm with a capacity up to 200 kg,
Adjustable head section from -70° to +40° with a gas spring,
Adjustable leg section from 0° to +90° with a gas spring,
Round face hole in the head section with a removable face hole cover (2 types: round and crescent),
Two-layer padding with non-flammable, bio-compatible and scratchproof upholstery in many colours,
Powder coated, extremely stable steel frame,
2 side brackets for the fixation of stabilization belts and elastic bands,
High/low height adjustment with foot pedal accessible from both sides of the table,
Non-slip rubber feet with 1 cm height adjustment allowing for the levelling of the table.
Technical Specification:
Length [cm]: 205
Height [cm]: 52-99
Width [cm]: 69(80)
Weight F0/F4 [kg]: 99/112
Max. load [kg]: 200